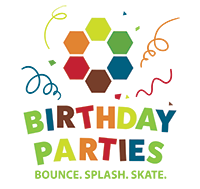 7th Inning Splash is Better with Friends!
Host your party or group at 7th Inning Splash Waterpark! Party Packages include everything you need to host the best birthday party ever – stress free. Or, for exclusive admission for large group events, check out our exclusive park rental options. 
(SOLD OUT.  Packages are unavailable for the rest of the 2023 Summer Season.  Please consider us again in 2024. )
Waterpark Admission for 10 Kids and 2 Adults
All additional guests are required to purchase admission based on their level of park participation.

View 7th Inning Splash Admission Rates

2 Hour Hut Rentals
(11:30 AM – 1:30 PM or 2:15 PM – 4:15 PM)
Rec 'N Crew t-shirt for the Birthday Child
2 Pizzas
Pitcher of Ice Water & 10 Juice Boxes OR 2, 2 Liter Bottles of Soda
(Pepsi or Sierra Mist)
Forks, Spoons, Knives, Napkins, Paper Plates and Cups 
Please Note: a Birthday Cake, Cookies or Cupcakes are the ONLY outside food items that may be brought into the park for the party celebration.
COST
$220 + tax

A $50 non-refundable deposit is required at the time of booking.
If you have questions about parties, please contact
Michael Eudy at 864-277-1809 or meudy@greenvillecounty.org

Rent the Whole Waterpark
Get the whole 7th Inning Splash park to yourself (and  your friends!). Park rental is available at the rates below:
Monday – Thursday
5:45 pm – 7:45 pm
$940 +tax
Friday – Sunday
5:45 pm – 7:45 pm
$1,045 +tax
Half payment (nonrefundable) is required to hold the date, and the balance is due 14 days before scheduled party.
No outside food or drink allowed. Concessions available upon request.
Book the Park
Contact Michael Eudy at 864-277-1809 or meudy@greenvillecounty.org to learn more or make reservations.