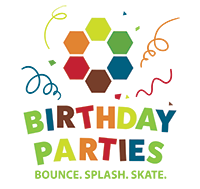 7th Inning Splash is Better with Friends!
7th Inning Splash offers party packages for groups of ten or more. Party packages are designed to include everything you need to host the big shebang — stress free.
Throwing a big bash? 7th Inning Splash is also available to rent exclusively for your large gathering or field trip.
Party Package Includes
$20/ person – Minimum 10 people
Schedule Your Party Today
A $50 non-refundable deposit is required at time of booking. No outside food or beverages are permitted.
Party Hut Time Slots
Select one of the time slots below to reserve a picnic shelter when scheduling your 7th Inning Stretch birthday party:
Monday – Saturday
12:15 pm – 2:15 pm  OR  2:30 pm – 4:30 pm
Sunday
2:30 pm – 4:30 pm
Rent the Whole Waterpark
Get the whole 7th Inning Splash park to yourself (and  your friends!). Park rental is available at the rates below:
Monday – Friday
9:15 am – 11:55 am
$865 +tax
Monday – Thursday
5:45 pm – 7:45 pm
$895 +tax
Friday – Sunday
5:45 pm – 7:45 pm
$995 +tax
Half payment (nonrefundable) is required to hold the date, and the balance is due 14 days before scheduled party.
No outside food or drink allowed. Concessions available upon request.
Book the Park
Contact Michael Eudy at 864-277-1809 or meudy@greenvillecounty.org to learn more or make reservations.